March 23 COVID19 Update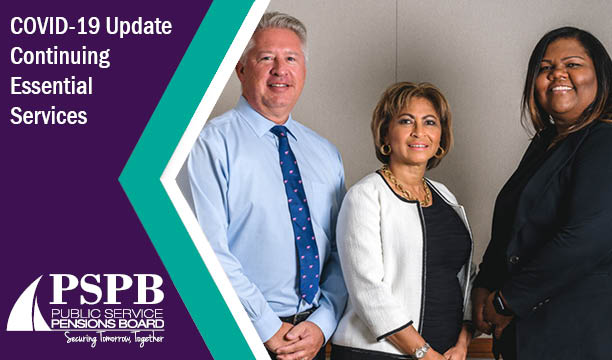 The PSPB is making changes to its operations in support of the broader national plan to reduce the risk associated with COVID19. Therefore, effective Monday, March 23, 2020, the PSPB is putting restrictive measures in place in support of social distancing. Our plan members and the general public are being encouraged to conduct meetings via telephone or video. In the PSPB office, staffing levels are being reduced but essential services will continue to be available between 8:30 a.m. and 4:30 p.m., but with limited front counter service operating with adjusted hours of 8:30 a.m. to 12:30 p.m. Outside of those hours, visitors will have the ability to access support from the PSPB via phone service within the Government Administration Building.
Over the coming weeks a large percentage of our staff will be working remotely as we exercise our business continuity preparedness plan to ensure that we have healthy employees available to provide critical services to our plan members during even more challenging times, should these occur.
Please note that most business with the PSPB can be completed via email or over the phone. The PSPB can be reached via email at pspb@pspb.ky or by phone at 945-8175.
We continue to focus on the health and safety of our employees and members and our efforts are concentrated on the continuity of essential services to our plan members both in Grand Cayman and Cayman Brac in the coming weeks.
The PSPB encourages the public to support all efforts in the Cayman Islands to limit exposure to COVID19 and to practice social distancing.